Power Efficiency Measurement at
1000 V and Above
Detect efficiency improvement effects on the order of 0.1% that
was not possible with high-voltage differential probes
Key Considerations for Accurately Measuring Efficiency
Can you accurately measure power from
fundamental to switching-frequency components?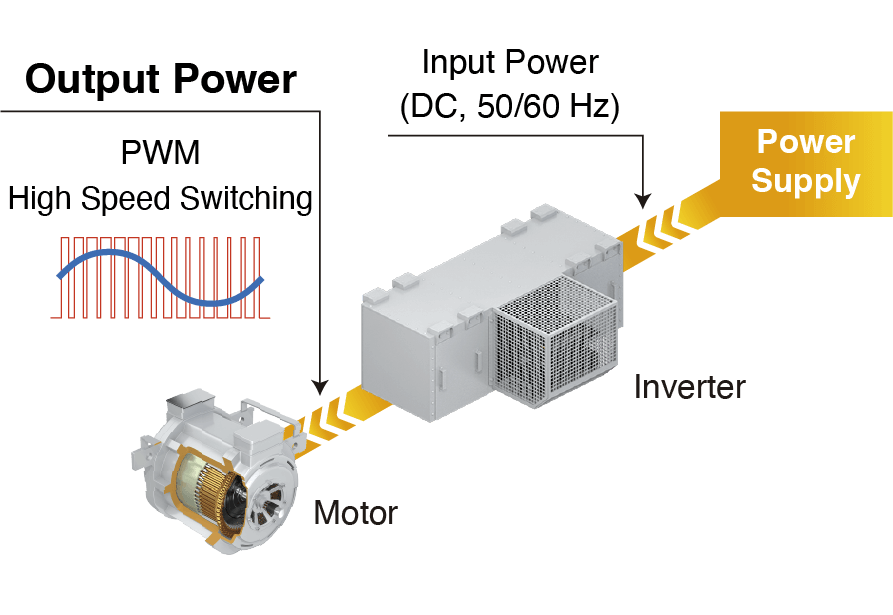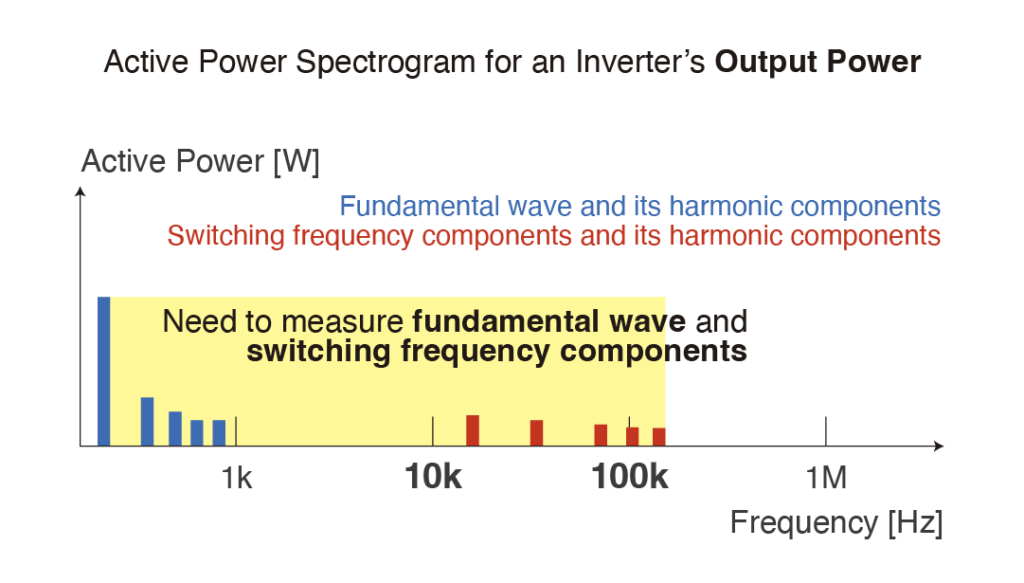 Active power on the output side of inverters includes not only the fundamental component, but also switching components. In order to measure efficiency with a high degree of precision, you must be able to accurately measure not only the fundamental component, but also switching components.
Inverter Efficiency Evaluation: Using VT1005 & PW8001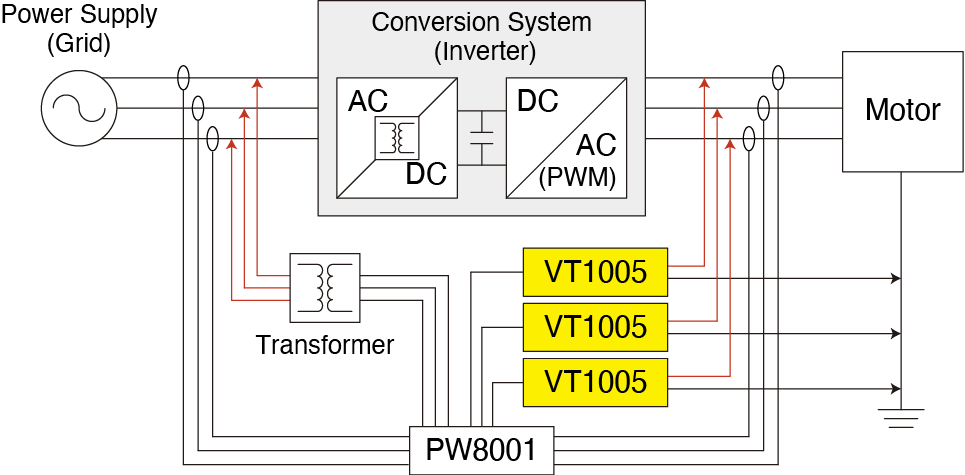 Efficiency and Loss Calculation Results on PW8001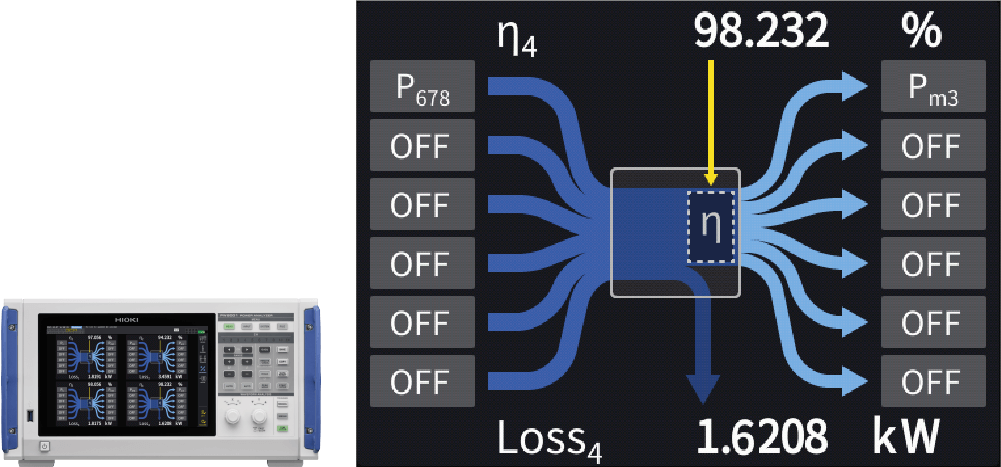 AC/DC HIGH VOLTAGE DIVIDER VT1005 & POWER ANALYZER PW8001
Power Efficiency Measurement at 1000 V and Above
Detect Efficiency Improvement Effects on the Order of 0.1%
---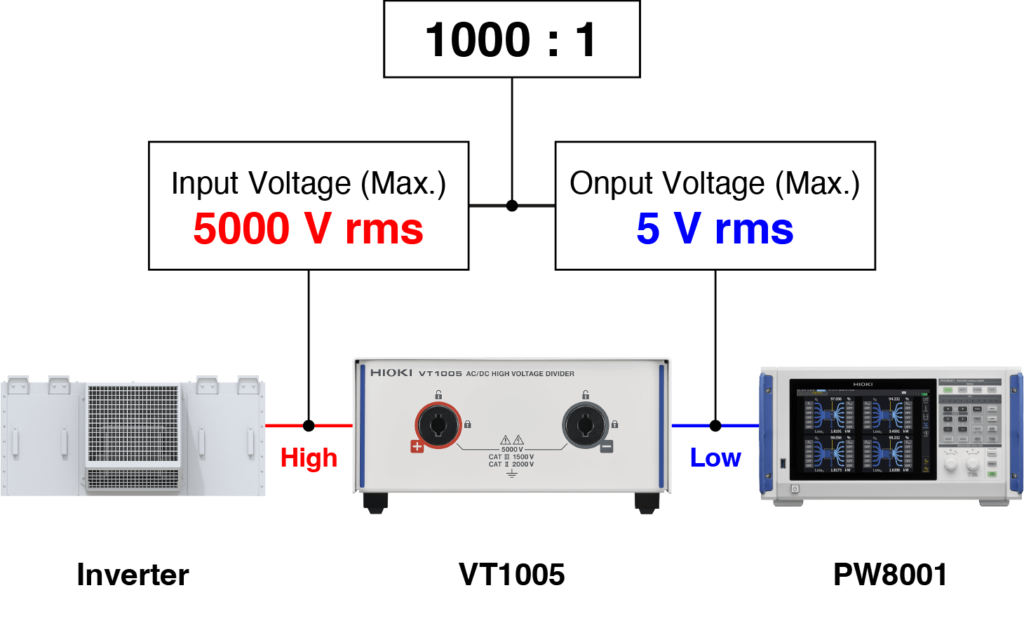 Safely Measure High Voltages up to 5000 V
Measure voltages of up to 5000 V, 2000 V CAT II, or 1500 V CAT III. Measured voltages are divided (1000:1) and output to the PW8001.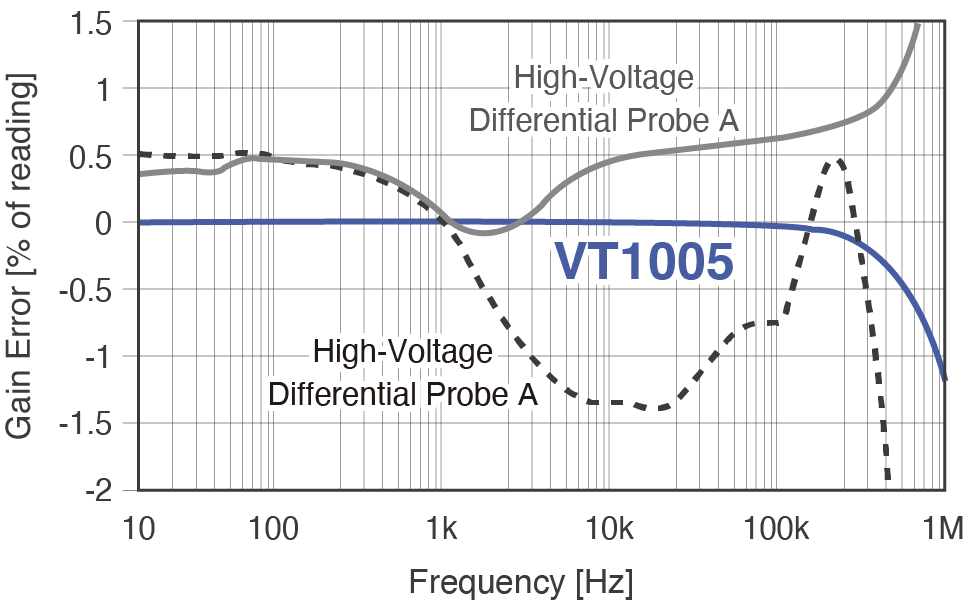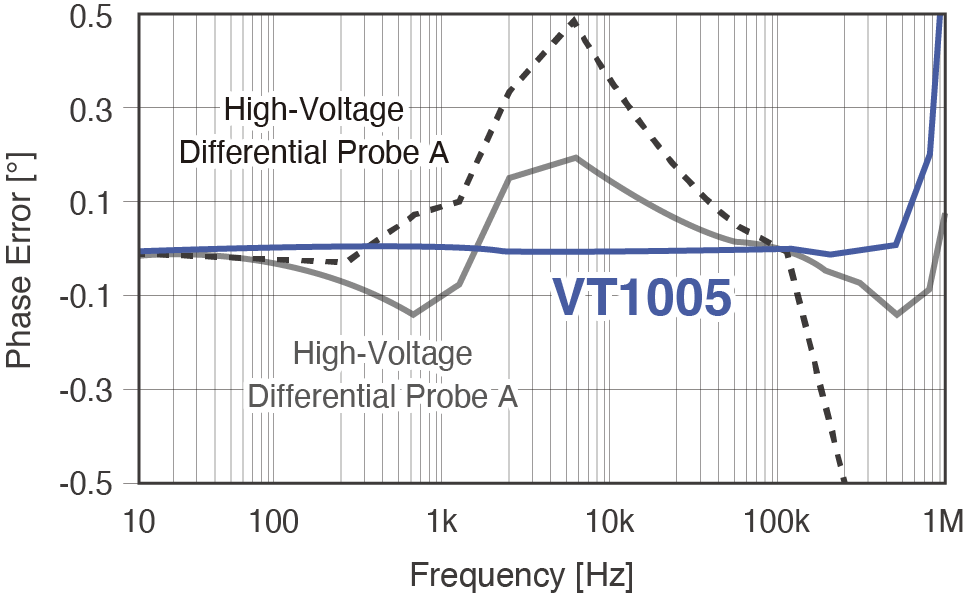 Stable Efficiency Measurements Down to the Decimal Point
The VT1005 can measure voltage with excellent accuracy across a broad band of frequencies. Accuracy is 0.1% or less at DC and commercial frequencies (50/60 Hz). In addition, the device can measure the most commonly used switching frequencies (10 kHz or less) and the switching frequencies of inverters that use SiC power devices (from 10 kHz to 50 kHz) with a high degree of accuracy.
Comparison of High-Voltage Differential Probe and VT1005 (Left)
High-voltage differential probes have a broad frequency band, but measurement error on the order of several percent occurs within that band. Thanks to high accuracy and excellent frequency flatness within its frequency band, the VT1005 makes it possible to detect efficiency improvement effects on the order of 0.1%, a task that has been impossible until now.
Accurately Measures High Power at
High Voltages in a Variety of Applications
Example of "VT1005" and "PW8001" Connection for Each Application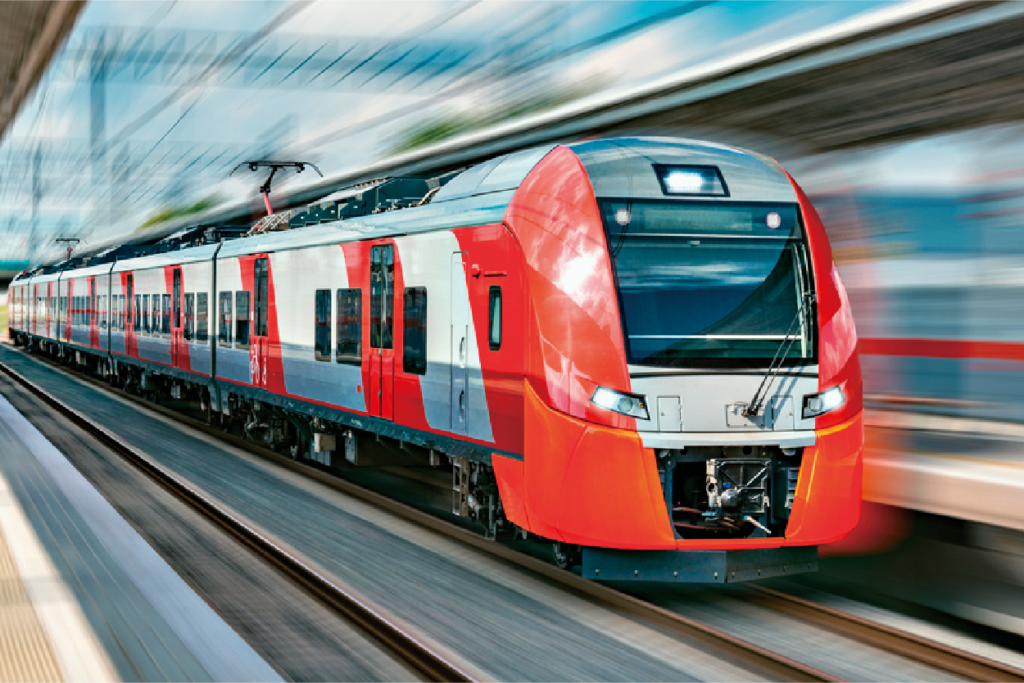 Evaluation of the Efficiency of Inverters That Use SiC Power Devices in Electrical Railways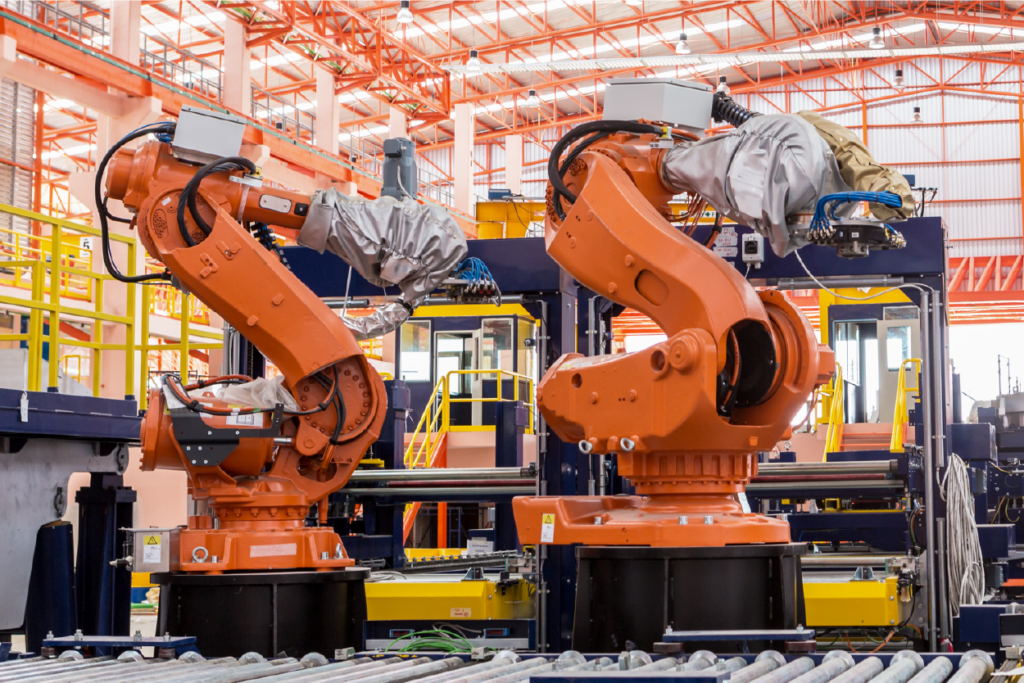 Evaluation of the Efficiency of Inverters That Use SiC Power Devices in Industrial Equipment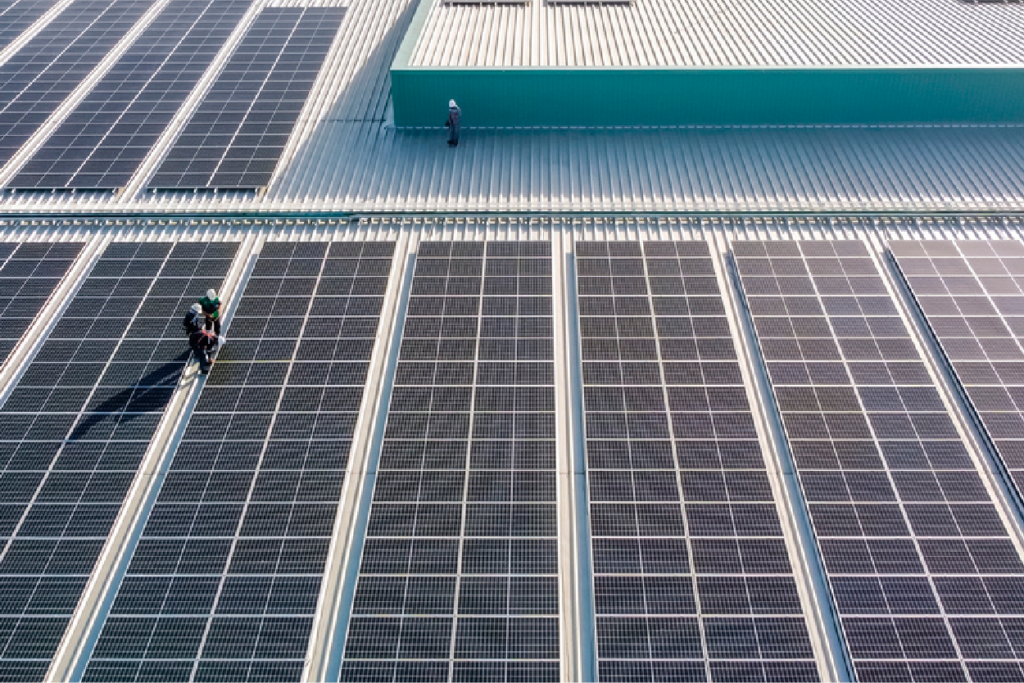 Evaluation of the Efficiency of Solar Inverters That Support High-Voltage Input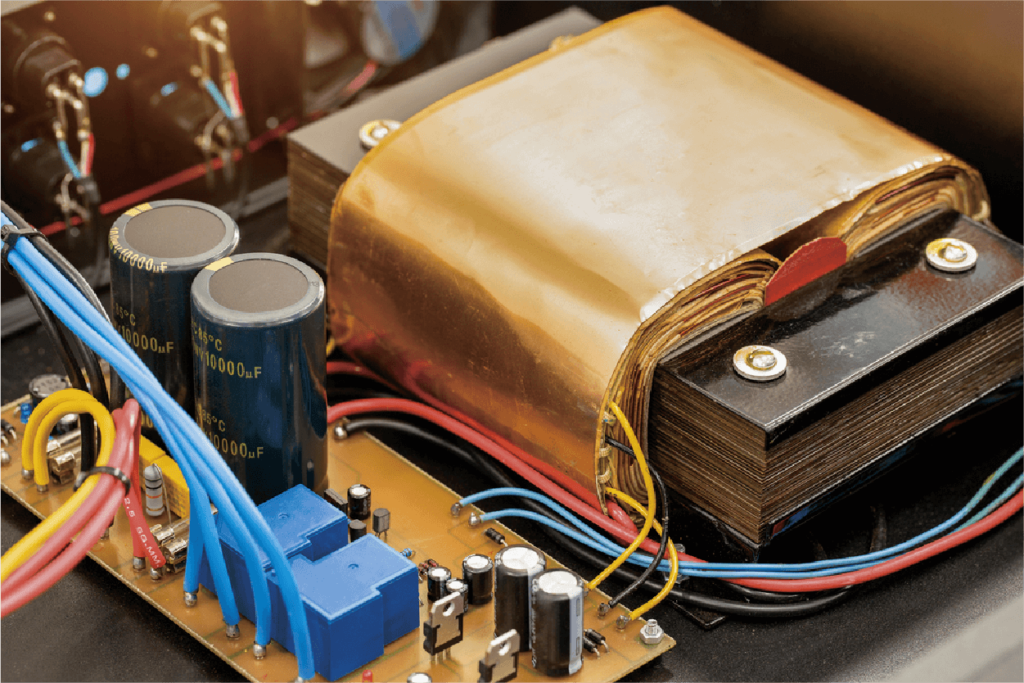 Evaluation of Loss in Transformers and Reactors Designed for Use in High-Voltage Circuits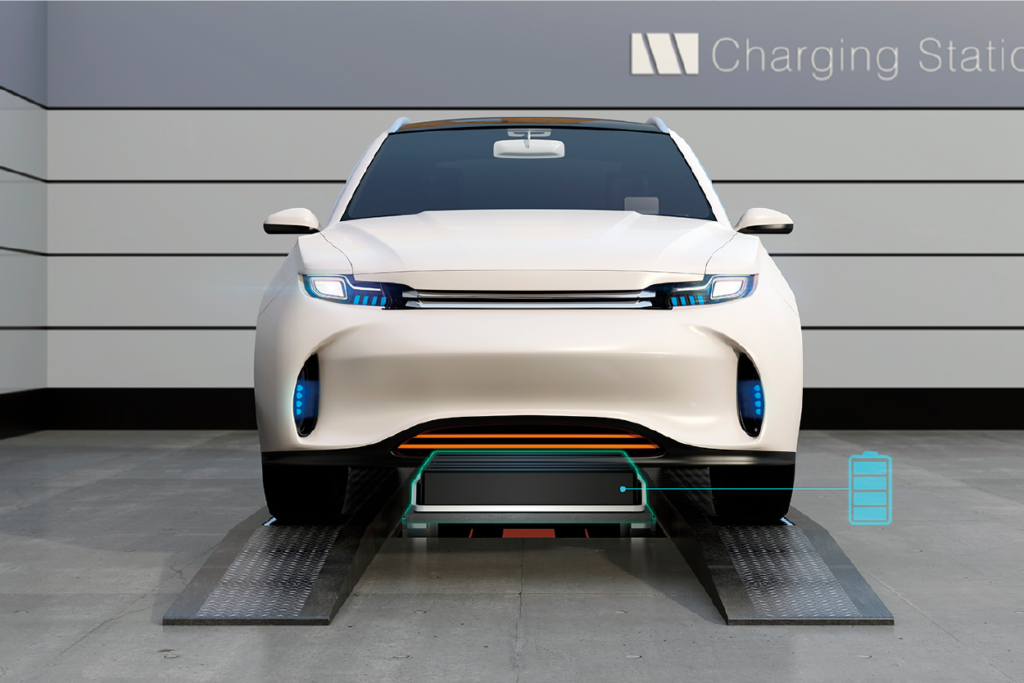 Evaluation of the Efficiency of Wireless Power Transfer (WPT) Systems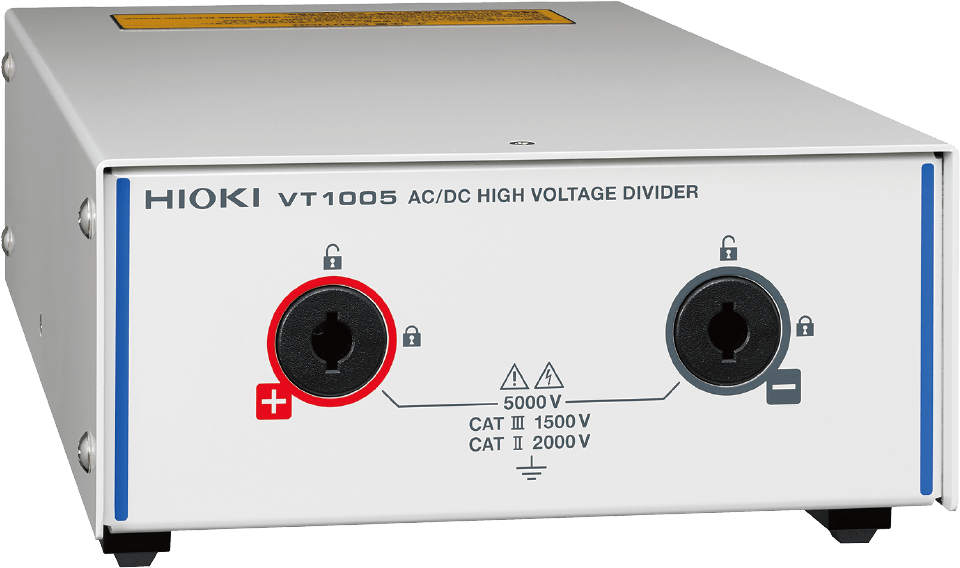 NEW
AC/DC HIGH VOLTAGE DIVIDER VT1005
– Max. Input 5000 V (*1), 2000 V CAT II , 1500 V CAT III
– Measurement Accuracy: ±0.08% (DC), ±0.04% (50/60 Hz), ±0.17% (50 kHz)
– Frequency Flatness: ±0.1% Amplitude Band 200 kHz Typical,
– Frequency Flatness: ±0.1° Phase Band 500 kHz Typical (*2)
– Measurement Band: DC to 4 MHz (-3 dB)
– Noise Resistance: CMRR 80 dB Typical (100 kHz)
– Differential Input Method
*1: ±7100 Vpeak, no measurement category, anticipated transient overvoltage of 0 V
*2: After phase correction by the power analyzer
Product Introduction Video