> ENGLISH > JAPANESE   > TOP PAGE
Extensive lineup of accurate current sensors
enables applications from
HILS development to equipment evaluation
Choose the right current sensors for your applications from
an extensive selection that enables a wide range of
optimal measurement solutions.
High-accuracy current sensors
Pass-through types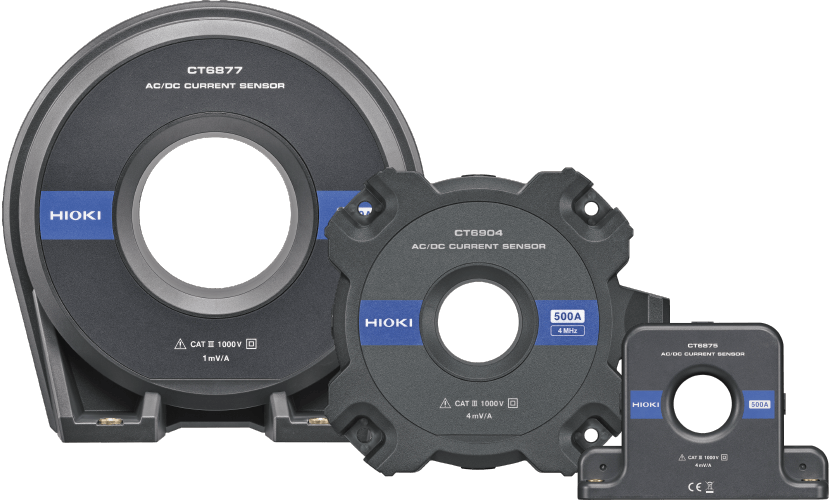 Pass-through sensors offer the ultimate accuracy, bandwidth and stability. Broadband measurements of up to 10 MHz and the ability to measure large currents of up to 2000 A make these sensors ideal for use in advanced R&D
Clamp types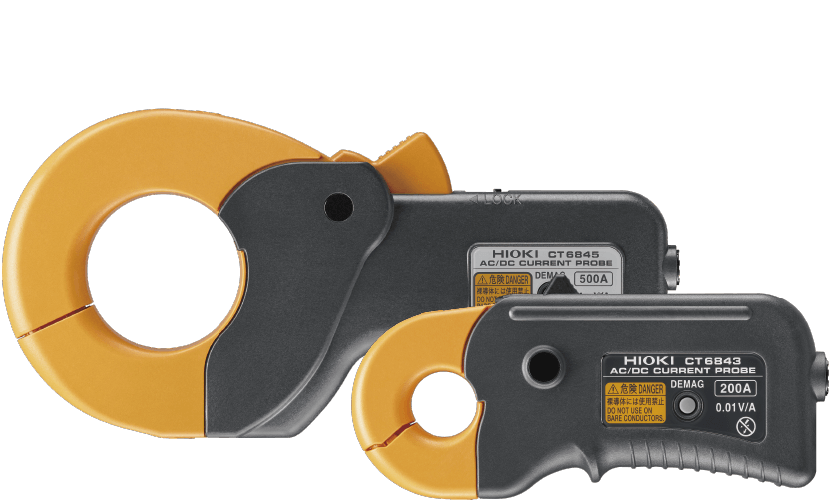 Clamp-type sensors can be affixed to the conductor quickly and easily. Their exceptional stability even under extreme temperature conditions allows their usage in various applications from HILS development to equipment evaluation in the field.
Direct-wired types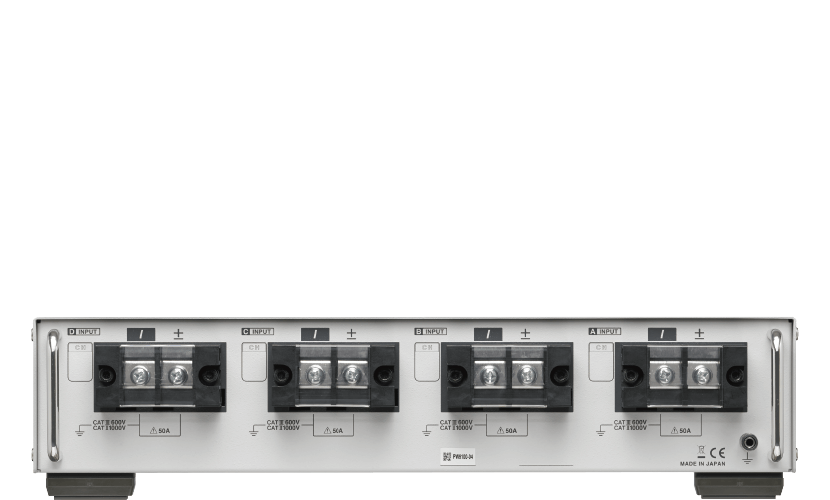 Our proprietary DCCT method allows our 50 A direct-wired sensor to deliver world-class accuracy and bandwidth.
Current sensor lineup
Model

Automatic
sensor
detection
Rated
primary
current
Frequency
range
Basic accuracy
(amplitude)
Conductor
diameter
No. of
channels /
Cable length
Operating
temperature
range
Pass through type

CT6904A

Yes

500 Arms

DC to 4 MHz

±0.02 % rdg




±0.007 % f.s.

φ 32 mm

3 m

-10℃ ~ 50℃

CT6904A-1

Yes

500 Arms

DC to 2 MHz

±0.02 % rdg




±0.007 % f.s.

φ 32 mm

10 m

-10℃ ~ 50℃

CT6904A-2

Yes

800 Arms

DC to 4 MHz

±0.025 % rdg




±0.009 % f.s.

φ 32 mm

3 m

-10℃ to 50℃

CT6904A-3

Yes

800 Arms

DC to 2 MHz

±0.025 % rdg




±0.009 % f.s.

φ 32 mm

10 m

-10℃ to 50℃

CT6862-05

–

50 Arms

DC to 1 MHz

±0.05% rdg




±0.01% f.s.

φ 24 mm

3 m

-30℃ to 85℃

CT6872

Yes

50 Arms

DC to 10 MHz

±0.04% rdg




±0.008% f.s.

φ 24 mm

3 m

-40℃ to 85℃

CT6872-01

Yes

50 Arms

DC to 2 MHz

±0.04% rdg




±0.008% f.s.

φ 24 mm

10 m

-40℃ to 85℃

CT6863-05

–

200 Arms

DC to 500 kHz

±0.05% rdg




±0.01% f.s.

φ 24 mm

3 m

-30℃ to 85℃

CT6873

Yes

200 Arms

DC to 5 MHz

±0.04% rdg




±0.008% f.s.

φ 24 mm

3 m

-40℃ to 85℃

CT6873-01

Yes

200 Arms

DC to 1 MHz

±0.04% rdg




±0.008% f.s.

φ 24 mm

10 m

-40℃ to 85℃

CT6875A

Yes

500 Arms

DC to 2 MHz

±0.04% rdg




±0.008% f.s.

φ 36 mm

3 m

-40℃ to 85℃

CT6875A-1

Yes

500 Arms

DC to 1.5 MHz

±0.04 % rdg




±0.008 % f.s.

φ 36 mm

10 m

-40℃ to 85℃

CT6876A

Yes

1000 Arms

DC to 1.5 MHz

±0.04 % rdg




±0.008 % f.s.

φ 36 mm

3 m

-40℃ to 85℃

CT6876A-1

Yes

1000 Arms

DC to 1.2 MHz

±0.04% rdg




±0.008% f.s.

φ 36 mm

10 m

-40℃ to 85℃

CT6877A

Yes

2000 Arms

DC to 1 MHz

±0.04% rdg




±0.008% f.s.

φ 80 mm

3 m

-40℃ to 85℃

CT6877A-1

Yes

2000 Arms

DC to 700 kHz

±0.04% rdg




±0.008% f.s.

φ 80 mm

10 m

-40℃ to 85℃

Clamp type


CT6841A

Yes

20 Arms

DC to 1 MHz

±0.3% rdg




±0.01% f.s.

φ 20 mm

3 m

-40 ℃ to 85 ℃

CT6843A

Yes

200 Arms

DC to 500 kHz

±0.3% rdg




±0.01% f.s.

φ 20 mm

3 m

-40℃ to 85℃

CT6844A

Yes

500 Arms

DC to 200 kHz

±0.3% rdg




±0.01% f.s.

φ 20 mm

3 m

-40℃ to 85℃

CT6845A

Yes

500 Arms

DC to 100 kHz

±0.3% rdg




±0.01% f.s.

φ 50 mm

3 m

-40℃ to 85℃

CT6846A

Yes

1000 Arms

DC to 20 kHz

±0.3% rdg




±0.01% f.s.

φ 50 mm

3 m

-40℃ to 85℃

9272-05

–

20 Arms,




200 Arms

1 Hz to 100 kHz

±0.3% rdg




±0.01% f.s.

φ 46 mm

3 m

0℃ to 50℃

Direct connection type

PW9100A-3

Yes

50 Arms

DC to 3.5 MHz

±0.02% rdg




±0.005% f.s.

M6 screw




terminals

3 ch

0℃ to 40℃

PW9100A-4

Yes

50 Arms

DC to 3.5 MHz

±0.02% rdg




±0.005% f.s.

M6 screw




terminals

4 ch

0℃ to 40℃
Key features
・ From R&D to shipping inspections – combine the input units that suit your application
・ Capture the slightest power loss with a wideband power measurement of world-class accuracy
・ Reliable reproduction of input waveforms with 15 MHz sampling and 18-bit resolution
・ Multi-circuit measurement of up to 8 channels of power data with a single instrument
・ Automatic sensor identification and phase compensation for more accurate and error-free measurements
・ Simultaneously analyze 4 motors with a single instrument
・ Link two PW8001 units to double the number of channels via optical link
・ CAN or CAN FD output enables to integrate measurement data into existing CAN networks
・ Extensive lineup of accurate current sensors enables applications from HILS development to equipment evaluation
Contact Form
Terms of use
By providing my personal information, I agree that Hioki may use it for the purposes stated in its Privacy Policy. I also agree that my personal information may be shared with Hioki subsidiaries and our distribution partners, in particular sales and rental partners, in order to fulfill said purposes. This consent is based on my free decision and I may withdraw my consent at any time. Upon receipt of my declaration of withdrawal, my personal information may no longer be processed and shall be deleted without undue delay. The withdrawal of my consent shall not affect the lawfulness of processing based on my consent before the withdrawal.
I may declare my withdrawal by contacting the following:
Manager Administration Division
HIOKI E.E. CORPORATION
81 Koizumi, Ueda-shi, Nagano 386-1192
Phone: +81-268-28-0550
---
個人情報の利用規約
私が入力した個人情報を、プライバシーポリシーの利用目的の範囲で、HIOKIが使用することに同意します。また、利用目的を実現するために、HIOKIの販売子会社及び流通パートナー、特に販売代理店とレンタル会社へ個人情報を提 供することに同意します。この同意は私の自由な決定に基づいており、いつでも同意を取り下げることができます。HIOKIが私の脱退宣言を受領する場合は、私の個人情報は使用されなくなり、過度の遅延なく削除されるものとしま す。私の同意の撤回は、撤回前の私の同意に基づく処理の合法性に影響を与えません。
以下の連絡先に同意の撤回を宣言することができます。
日置電機株式会社 総務課 個人情報担当〒386-1192 上田市小泉81番地 TEL 0268-28-0550
フォームが表示されるまでしばらくお待ち下さい。 恐れ入りますが、しばらくお待ちいただいてもフォームが表示されない場合は、
こちら
までお問い合わせください。