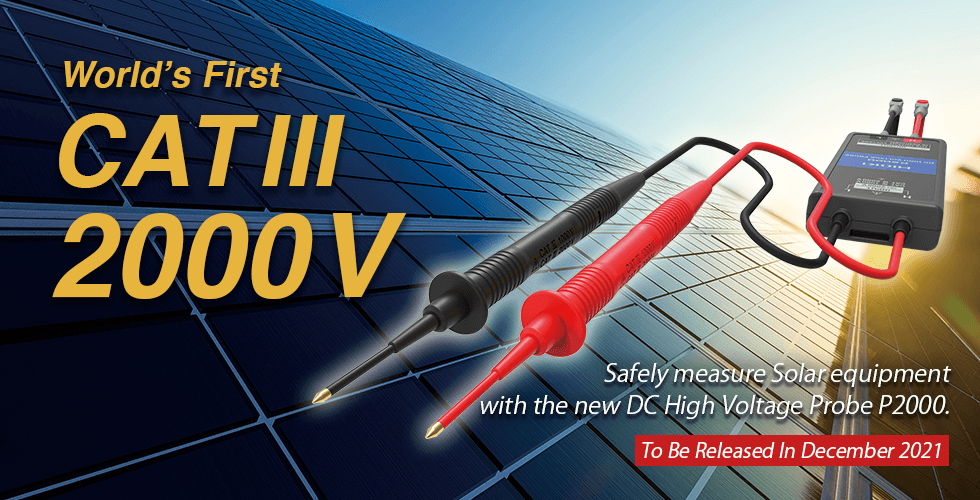 Safe Inspection of Solar Installations with High Voltage
The voltage of solar installations (also known as photovoltaic or PV installations) increases
to reduce cost and improve the efficiency of solar equipment.

As a result, it is important to select measuring instruments
that support higher voltage measurement to protect the safety of inspection workers.
The P2000 enables high voltage measurement up to CAT Ⅲ 2000 V
by simply connecting to a compatible Hioki clamp meter or digital multimeter.
Why is CAT III 2000 V capability necessary?
Recent years have seen the introduction of solar power systems and EV batteries that operate at progressively higher voltages, creating new maintenance demand. At the same time, the hazards posted by maintenance work are increasing due to use of higher voltages.

Safety standards categorize measurement locations by measurement category ratings CAT II, CAT III, and CAT IV based on their line-to-ground rated voltage, current capacity, and transient overvoltage. According to the standard for Photovoltaic (PV) module safety qualification (IEC 61730-1), PV modules are treated as the overvoltage category III, and an instrument categorized as Measurement Category III is required.
Against this backdrop, measuring instruments used in maintenance of solar installations must accommodate high voltages to ensure they can be used safely. Using instruments that can accommodate the appropriate measurement category serves to protect workers and equipment from serious accidents such as electric shock and burnout.

Currently, adoption of 1500 V solar installation is growing, but instruments that can accommodate even higher voltages will be necessary in the future as larger and even more efficient systems enter into use.
Hioki developed the P2000 to support CAT III 2000 V measurement in response to the near-term prospect of such applications.

P2000 Compatible Models
DIGITAL MULTIMETER
DT4261
AC/DC CLAMP METER
CM4375-50
AC/DC CLAMP METER
CM4373-50
AC/DC CLAMP METER
CM4371-50
AC CLAMP METER
CM4141-50
P2000 Specifications
Maximum input voltage
(max. rated voltage between INPUT H-INPUT L)
DC 2000 V
Maximum rated voltage to earth
2000 V (Measurement Category III) anticipated transient overvoltage 15,000 V
1000 V (Measurement Category IV) anticipated transient overvoltage 12,000 V
Input resistance
20 MΩ ±5.0% (between INPUT H – INPUT L, with OUTPUT terminal open)
Output ratio
Depends on the input impedance of the connected device (example: 1/10 when a device with an input impedance of 10 MΩ is connected)
Overload protection
DC/AC 2200 V 1 minutes (between INPUT H – INPUTO L)
DC/AC 600 V 1 minutes (between OUTPUT H – OUTPUT L)
OUTPUT terminal
4 mm banana terminal
Operating environment
Indoor use, pollution degree 2, altitude up to 2000 m
Operating temperature and humidity range
Temperature: -25°C to 65°C (-13.0°F to 149.0°F)
Humidity: −25°C to 40°C (−13.0°F to 104.0°F): 80% RH or less (non-condensing)
40°C to 65°C (104.0°F to 149.0°F): Linearly reduces from 80% RH or less at 40°C (104.0°F) to 25% RH or less at 65°C (149.0°F) (non-condensing).
Storage temperature and humidity range
-30°C to 70°C (-22°F to 158°F) 90% RH or less (non-condensing)
Applicable standards
EN 61010
Product warranty period
3 years (probe body and cable part are not covered by warranty)
Accessories
Connection Cable Set L4943, Strap with buckle, Carrying Case C0205, Instruction Manual, Operating Precautions
Accuracy in combination with the DT4261 or Clamp Meter series
Models
Combination Accuracy Specifications
DT4261
Range 600.0 V, ±0.5% rdg ±0.2 V
Range 2000 V, ±0.5% rdg ±5 V
CM4375-50
Range 600.0 V, ±1.0% rdg ±0.3 V
Range 2000 V, ±1.0% rdg ±3 V
CM4373-50
CM4371-50
CM4141-50
Download Flyer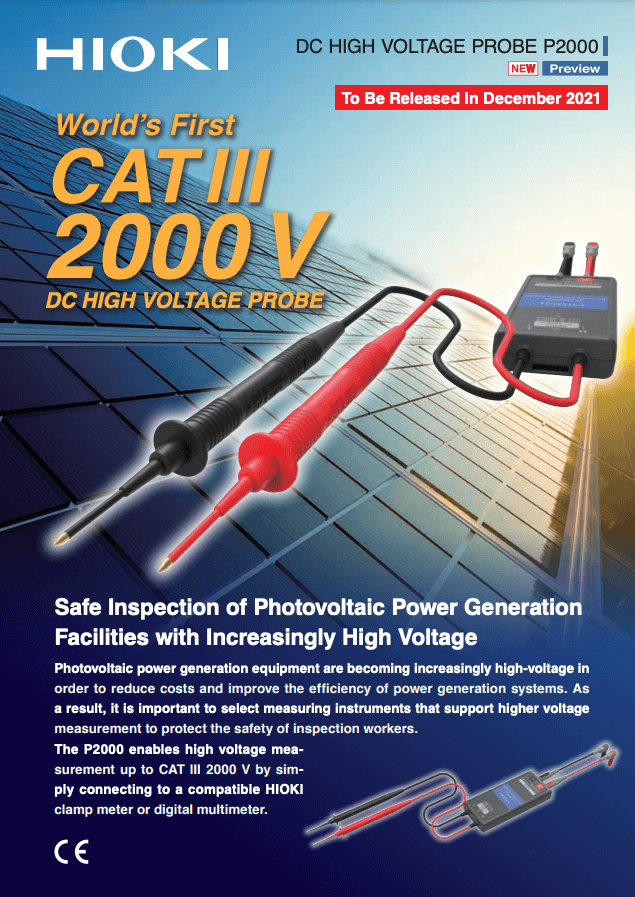 You can also see the information on this page in PDF format.

Click button below to download the flyer.